This is a guest post brought to you in cooperation with Rebecca Isherwood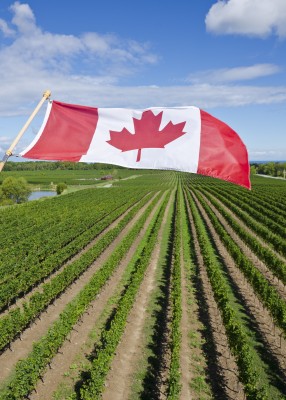 When you think of the world's greatest wine producing regions, Canada may not be the first place that comes to mind. But from the well-established wineries of Ontario's Niagara region to the up-and-coming labels from British Columbia's Okanagan Valley, it's possible to find world-class wines throughout Canada.
To celebrate this burgeoning industry and promote the ever-expanding list of wines that hail from Canada, most of the major wine regions host large wine festivals each year. With gourmet wine dinners, winery tours, educational events and more, these festivals attract visitors from all over the world, eager to experience the best that Canadian wineries have to offer.
If you're looking for something new to try this summer or fall, consider adding one of these wine-focused events to your travel itinerary.
Niagara Wine Festivals
Along the southern portion of Ontario and straddling the Canada/United States border, Niagara's wine country produces a wide variety of fine wines, including Pinot Noir, Merlot, Chardonnay, Syrah and Riesling. The region's unique location between the Niagara Escarpment and Lake Ontario actually creates a more temperate climate than other parts of Canada and allows for a longer growing season that produces full-flavored wines. The region is perhaps best known for producing icewine, a wine made from particular varieties of grapes that are allowed to freeze on the vine before being made into wine.
To celebrate these wines, the local wine promotion council hosts a number of festivals throughout the year. The New Vintage Festival takes place each June and is devoted to celebrating the most recent wines and the start of the summer growing season. The Niagara Wine Festival is the largest of the festivals, taking place over the last two weeks of September each year. Parades, bicycle and road races and of course, wine tastings and dinners fill the calendar for this popular event. Finally, in January, the Niagara Icewine Festival celebrates the local specialty with tastings, dinners and the Ice Queen's ball, a formal event featuring some of Canada's top entertainers.
At each of the festivals, attendees can purchase a Wine Festival Discovery Pass, which entitles them to six "experiences," that may include tastings, dinners, tours and classes during the course of the festival. Local accommodations also make it easy to find hotel deals near Niagara Falls and the wineries, many of which include wine-related perks like extra ticket tours and shopping coupons, making it convenient and affordable to enjoy Niagara's wine.
Rocky Mountain Wine & Food Festival
Held in Banff in May, and Calgary and Edmonton in October, the Rocky Mountain Food & Wine Festival provides the opportunity to taste wine and culinary delights from Canada and all over the world. Attendees arriving at the festival purchase tasting coupons which can be used to purchase samples of everything from the latest offerings from Canadian wineries to top menu items from some of the area's best restaurants. While not all of the exhibitors at this festival are Canadian, many are; it's often the best place to discover new and exciting offerings from both the provinces as well as from around the world.
Okanagan Valley Wine Festivals
British Columbia's fertile Okanagan Valley might be second to the Niagara region in terms of Canada's wine production, but it's still home to dozens of wineries producing a wide variety of wines. Until the 1970s, the region was primarily known for fruit wines made from apples, pears, blueberries and the like; by the mid-70s, many wineries were focused on German grape varieties such as Riesling as well as French hybrid grapes. Today, the region's vineyards produce more than 60 types of grapes, creating a wide array of wines ranging from the crisp German vintages to heavier cabernets.
To celebrate this diversity, the Okanagan Wine Festival Society hosts three wine festivals each year — in the spring, summer and fall. Each festival last for about a week, and features events ranging from tastings and wine education seminars to dinners, concerts and awards ceremonies. Each event is ticketed separately, allowing visitors to customize their festival experience. You can also join the optional passport promotion: visit at least eight of the participating wineries before or during the festival and have your passport stamped, and you'll be entered to win tickets and accommodations for a future wine festival.
The Canadian wine industry is growing quickly and offers a wide array of wines that cannot be found anywhere else in the world. To experience as many of these delightful vintages as possible, consider attending one of the exciting festivals and enjoying some distinctly Canadian hospitality and flavors.
About the Author: Rebecca Isherwood is a writer and oenophile who recently discovered the delights of icewine while visiting friends in Calgary. Although she writes about wine for several travel publications, she admits that her culinary skills are best suited to tasting, not creating.
This is a guest post brought to you in cooperation with Rebecca Isherwood