Here's a look at our custom made business cards for our blog. For $22 we got 500 of them from VistaPrint.ca so we have lots to give away.
I think these things are going to be great. For months now, I've been spouting off our URL to friends and family, usually to be greeted by a nod and a quick "can you email that to me?" or "I think might be able to remember that."
Well, no more emailing or remembering required with the new Traveled Earth Limited Edition Business Cards! The primary reason we decided to pick these up was to hand them out on our travels. As we learned on our trip to New Zealand in 2007, napkins and spare scraps of paper were not an ideal medium to write email addresses on. By the time we were home, sitting in front of a computer; those precious notes had been lost or disintegrated in our packs. These should be a bit more durable.
We're finding that they are also good at home. We've only had them a week, and I've already handed out about a dozen of them. They are great icebreakers, and people really seem to enjoy them. If you are thinking about doing something similar, I recommend getting them early so you have time to spread some around before you leave on your trip.
We first got the idea to print up custom business cards from the man who swam the amazon when he left a note for someone at Hootalinqua on the Yukon River. We never actually met the man who swam the amazon, but we did get a photo of his business card note.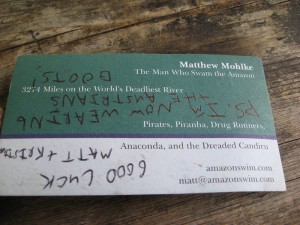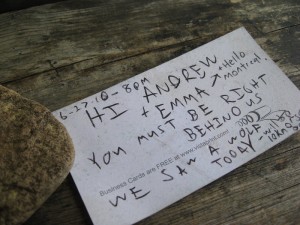 6 Responses to "Traveled Earth Business Cards"