We made it!  Ashley and I are writing this post from Alex's house (our very kind couch surfing host) in Cancun!
First off, lets get the basics out of the way.  We had no trouble with any of the flights, everything was on time and turbulence free.  We had our first bit of fun leaving the Calgary Airport when the flight crew asked us to show hands indicating how long before our return flight to Calgary.
Who's going to Cancun for a week? Two weeks? Three weeks?… a month?…… Five weeks?…… A year?…… …… …… Holy cow, are you going to live there?
Our hands were the only ones still up after they got to three weeks.
We caught a shuttle from the airport directly to our gracious couch surfing host's place to find the door locked and nobody home.  Instantly I knew the problem.  I had forgotten to confirm our arrival time, how could we expect to be met at the door when I didn't say when we were coming?
We set about waiting for about a half hour: looking up nearby hostels in our Lonely Planet guide as a backup plan.  Just as we were ready to leave and explore other options, the military showed up at the gate to the condo.  They dismounted and stood there staring at us.  The really scary part was the fact that they were all wearing full face masks, so nobody could be identified.  Not being terribly familiar with the current state of corruption in Mexico, we decided to wait a little longer before venturing back onto the street.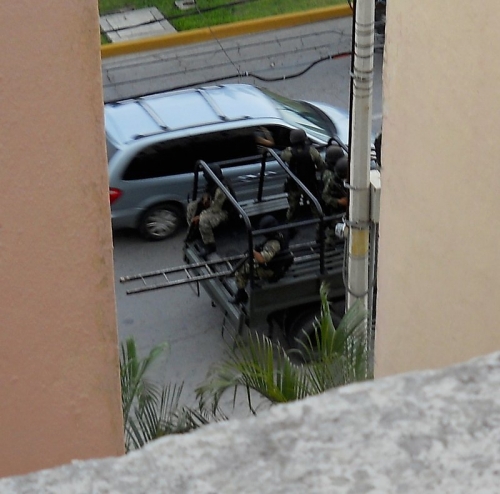 The military
finally
leaving the condo entrance
As luck would have it, the military pulled out just as our host walked in.  He opened the door, and we've been sleeping on this bed happily ever since.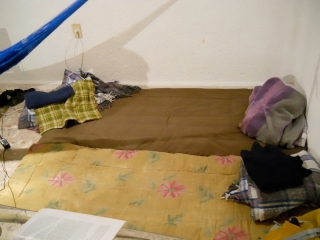 Our Bed
Weather:
It's hot, but not too hot.  Humid (my cloths haven't dried and I washed them over 24 hours ago) but after a couple of days we are starting to get used to it.  Rainy, it's been cloudy every day, and has ranged from no rain to fierce downpours.  It doesn't really seem to bother us though.  We spent yesterday outside at the beach on Isla Mujeres during a constant rain and never had to put on a jacket.
Adjustment:
Please note that despite the following we are having a great time, and are not headed home anytime soon:
I'm not adjusted at all.  Neither of us can really fathom that this is going to be our life for the next year, or two, or more.  It still feels like a 2 week vacation.  To tell you the truth, the first night we had a small crisis moment.  There we were, sleeping on the floor, with absolutely no idea what we were going to do the next day.  We had just gone out for supper at a local park and were staunchly aware that there was going to be a language barrier.
We both thought of home… the comfort, security, family, friends.  Then we thought "Oops, what have we done!"  A part of us really wanted to know that we would be returning to that safe comfortable life we had just left.
But here we are on day three, and I haven't had another crisis moment yet.  We've started to plan out what we are going to do in the next few days, and that's got us really excited.
The Plan:
Still pretty vague.  So far we plan to leave Cancun tomorrow and go to Isla Holbox.  It's supposed to be a natural beach resort island with an awesome hostel, flamingo reserve, and cheap tours to swim with whale sharks.  Unless the rain today changes our mind, that's probably where we'll head next.  That should give us plenty of downtime to figure out how to get to Chitchen Itza, Palenque, and eventually Guatemala.
8 Responses to "Adjusting to Our New Life"