Flores is known as the town of painted doors (maybe just to us?) and is located on an island that was supposedly once occupied by the Itzas after they abandoned Chichen Itza. Today, there is absolutely no sign that the island was ever occupied by the Itzas. Instead, the place is filled with expensive hotels, restaurants, and travel agencies.
Getting There
To get to Flores, we booked a tour from Palenque Mexico which included a bus ride to the river that serves as the natural border between Mexico and Guatemala, a boat ride up the river (in the most unstable boat I've ever been in), and a bus ride from the Guatemalan side of the river directly to Flores. I suppose it's possible to book all this transit individually, but going through the tour agency sure saved a lot of hassle, and wasn't really that expensive.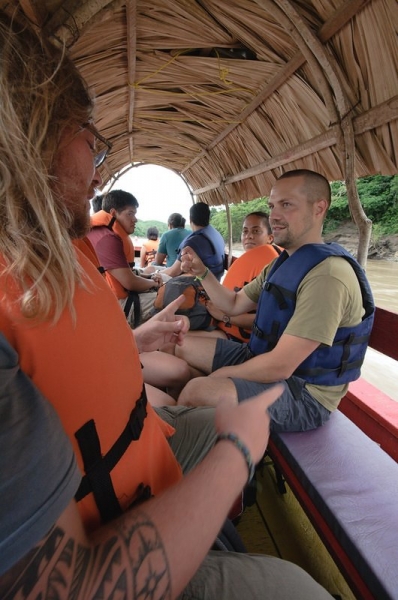 A very long and narrow boat
What Is There To Do?
There's not much going on in Flores itself. The town was built for the express purpose of shuttling tourists out to the Tikal Ruins. We'll write more about Tikal in an upcoming post.
You can swim in the lake, but be warned the water is warm… bordering on hot. We jumped in one afternoon trying to escape the heat and were somewhat disappointed. On a cool overcast day, it would be awesome though.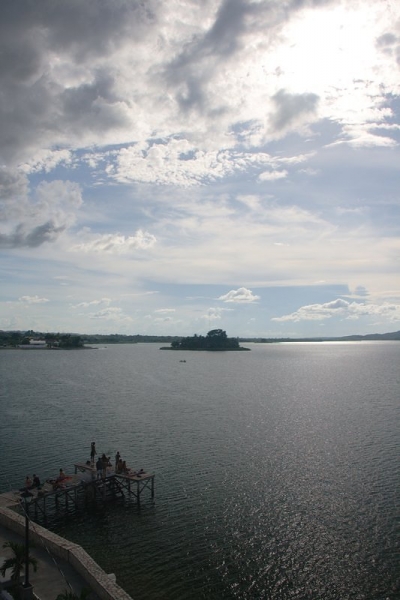 Ye Old Swimming Hole
There are boat shuttles that will take you to a small island with a museum, a beach, and an animal rehabilitation centre. We didn't do any of these, but the option was there.
At the very top of the island exists a church overlooking a park. The church itself was by far the tallest structure built at the highest point on the island. After asking around in our really bad Spanish, we managed to find the priest and ask him if we could go to the top of the church to take some photos. He agreed, and the three of us, along with a local parishioner who had apparently never thought of asking to do the same, made our way up. The view was the best on the island. And we had a good time trying to converse with our two companions.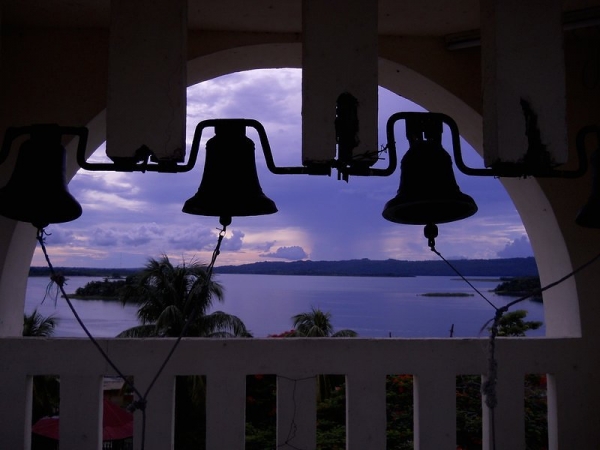 View from the Church
We only spent two nights in Flores, and that was enough for us. It was a nice enough, but if we were to do it over again, we probably would spend only one night in Flores, and the second in Tikal. As it turns out there are a few places offering accommodation in Tikal for a lower price than we could find in Flores. There is also the possibility of finding late night or early morning tours through the Tikal Ruins outside of the peak tourist hours when the park is closed to the public. Watching a sunset or sunrise from the top of the ruins would have been impressive.
4 Responses to "Flores, Guatemala"