We've been going on and on about how we decided to become divemasters in Utila, but it's come to my attention that most people outside of the diving world don't really know what a divemaster does.  So let's change that, shall we?
We, as divemasters, can not teach you, our lovely friends and family, how to scuba dive.  We would have to become instructors for that, another course that comes with a hefty price tag.
What we can do is lead certified divers.  That means that once you get your open water certification, we can take you out, let you know what to expect on the dive, point out some interesting aquatic life, and get you back to the boat with plenty of air to spare.  That's what divemasters are for… they take the stress of navigating out of the equation and they know where to look to see the cool stuff.  A good divemaster makes the dives smoother and more enjoyable for everyone.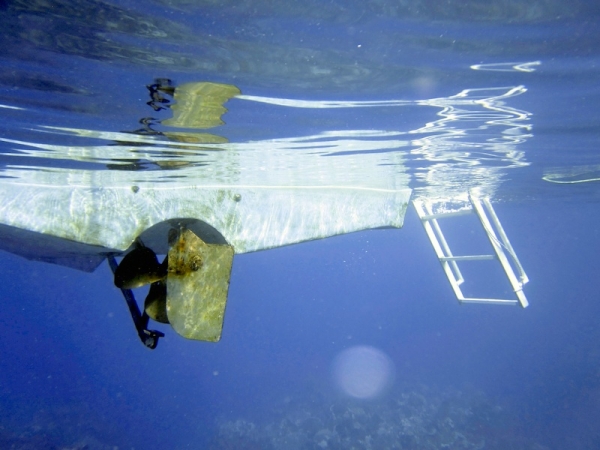 Find the boat may not always be easy, but it doesn't feel like magic anymore
Divemasters can do a few more things too.  They can refresh your diving skills if you haven't dove in a while.  They can certify skin divers (snorkelers).  They can also teach a few specialities, given the appropriate additional certifications and take out discover scuba divers (someone that is not certified) after an instructor has taken them out at least once before.
There are several stages of training between landlubber and PADI divemaster.
First, you need your open water diver certification.  In Utila, this is typically a three day course.  The first day is spent in confined water (a pool or off-dock pool-like environment) learning the skills, and then four open water dives are done over two days from the boat.  There are five knowledge reviews and a final exam to complete.  Once certified, you can dive with a buddy to a depth of 18 m.
Then, you need your advanced open water certification.  This course is much less rigid than the open water course.  You need to complete five adventure dives, typically over 2-3 days.  These dives must include a deep dive (between 18 and 30 m) and a navigation dive.  The other three are up to you!  We chose to do a wreck dive, night dive, and peak performance buoyancy.  There are five knowledge reviews to complete, but no final exam.  Once certified, you can dive with a buddy to a depth of 30 m.
The last step before the divemaster program is to become a rescue diver.  Before you can become a rescue diver, you need to have a valid EFR certification (emergency first response/CPR and first aid), taken within the past 24 months.  If you don't already have it, it will be an extra afternoon of instruction and practice, a couple of knowledge reviews, and an exam.  The rescue course typically takes about three days and involves a lengthy confined water section and then two scenarios and a dive from hell off the boat.  You learn how to deal with all kinds of problems and emergencies in and out of the water, including how to respond to panicked, tired, and unresponsive divers underwater and at the surface.
Finally, the divemaster program.  To begin the program, you need to have 40 logged dives under your belt (all of the previous course dives count as logged dives).  If you don't have 40 dives, don't worry… in Utila, you don't have to pay for them once you've signed up for the divemaster program.  The actual course can take anywhere from two and a half to eight weeks, depending on your schedule.  The course includes:  nine knowledge reviews, a final exam, a skills circuit assessment (of your ability to demonstrate the open water skills), a swimming skills assessment (400 m timed swim, 800 m timed snorkel, 100 m timed tired diver tow, 15 float/tread), an underwater equipment exchange, dive site mapping project, deep dive scenario, search & recovery scenario, dive briefing assessment, dive site & boat set up assessment, five workshops where instructors, divemasters, and DMTs act as your divers (discover local diving, skin diving, discover scuba diving confined water, discover scuba diving additional dive, and scuba tune-up), and four actual scenarios (assist on confined dives for open water course, assist on open water dives of open water course, assist on a continuing education course, and lead certified divers).  You also need a total of 60 logged dives to finish the program (this is no problem by the time you've met all the other requirements).
So You Think You Might Want to Become a Divemaster? (and tips for choosing a dive shop)
Choosing a dive shop is always an important factor for any certification, but because of the time involved it is especially important with the divemaster program.  One of the instructors at the shop will be your personal mentor.  Depending on the set up, they may also be the person you do all of your skills with during the course (we got the opportunity to work with several instructors while completing our divemaster program, which I would highly recommend).
The best way to choose a dive shop in a place like Utila (which has something like 14 different shops) is to spend a day walking around and talking to them all.  Obviously, you need to ask the cost of the program (remember, these are often negotiable, especially if it's low season).  Also find out if the cost includes any extras… Are the dives required to start the program included?  Does this include reef fees?
Related to the question of price – what are the perks? Do you offer free/discounted accommodation?  If so, for how long?  Do you offer any free/discounted specialty courses to divemasters-in-training?  We managed to get our nitrox, wreck, and deep specialties for the cost of the certification.  Do you get free diving for life after you're done the course?
Also, if you're planning to stick around and work as a divemaster, ask about the possibility of continuing on with the shop – some shops guarantee work for their graduates (though the amount of work might be sparse).  If you're interested in making a few bucks back, ask if you can work in the shop while you're completing your course.
Probably the most important factor in choosing a dive shop is the people.  The prices are usually pretty close from shop to shop and you can walk around checking out equipment, but it'll probably be similar as well.  When you chat with the shops about prices and get tours of the facility, note the vibe of the place… is it a party place?  Is it quiet and laidback?  Does everyone seem to get along well?  Are there experienced instructors around for everyone to benefit from?  Is there an instructor that you can have a good mentor/mentee relationship with?  Do you get to choose your mentor or will they be assigned to you?  Can you set your own schedule, or do you need to follow theirs?  If at all possible, make sure you get out on the dive boat at least once before committing to any shop.
Ultimately, we didn't choose the cheapest shop (I know, I know… how out of character for us), we chose to pay a little more for a shop that fit our schedule, and our vibe.  All in all, the time we spent picking our shop was well worth the effort.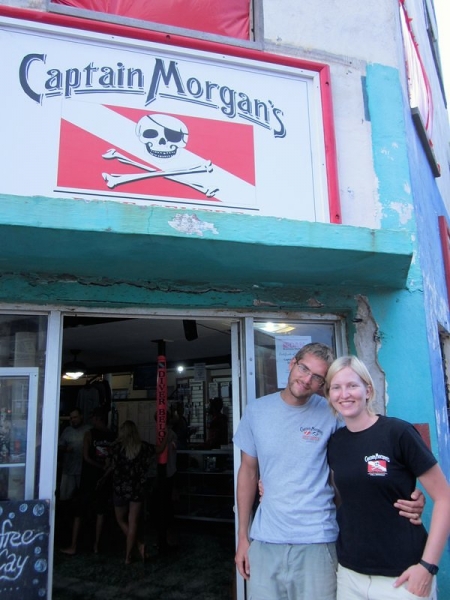 Hanging out in front of our dive shop
2 Responses to "So What Exactly Is A Divemaster, Anyways?"