Our time in Costa Rica was short as it was mostly a visa run to renew our C-4 visas. We were required to stay 72 hours, but stayed until Mom and Terry had to fly home.
Costa Rica Summary:
Length of Stay: 10 days
Average Cost per Day for Two People: $52.68 CAD
Cities Visited: 5
Distance Traveled: 788 km in 10 automobiles
Days Sick: 0 for Ashley, 0 for Mike
Number of Items Lost: 1 PADI bag with all our divemaster books & slates – stolen while on a bus
Biggest Tourist Traps: Everywhere we went, it was very touristy
Exchange Rate: $1 CAD = 520 Costa Rican Colones
As always, you can check out all our stats on our stats page.
Our Route:
Nicaragua border – Liberia – Playa del Coco – Monteverde/Santa Elena – Jaco – San Jose – Nicaragua border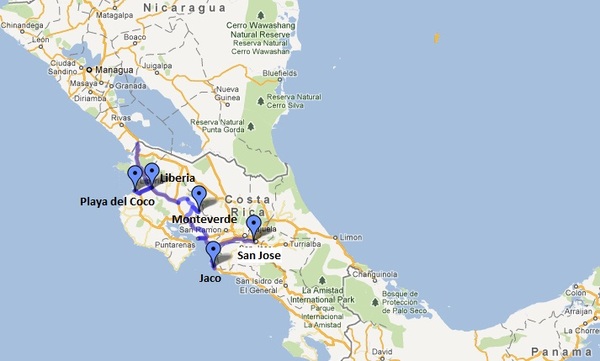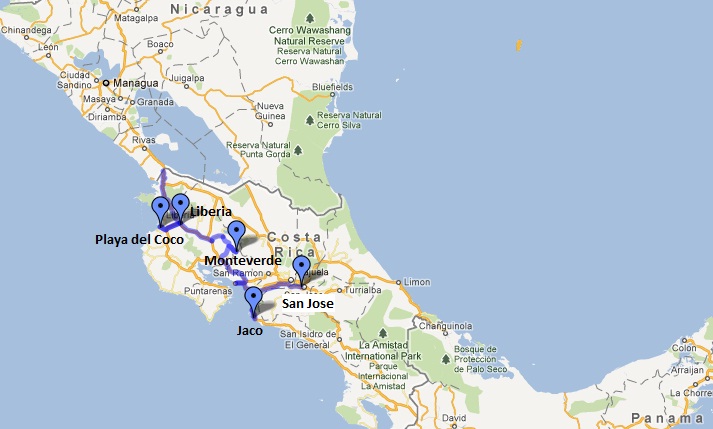 Highlights:
Seeing wildlife like sloths and armadillos
Monteverde Cloud Reserve
Canopy Tour with Tarzan Swing
Lowlights:
Getting robbed twice in a week
The cost of everything… nothing comes cheap here
Surprises:
How dangerous it is – we assumed that since it was the richest country in Central America, it would be the safest… not so!
This might sound silly, but I pictured the whole country as one big jungle. It's not.
They don't have street addresses.  Anywhere.  You try to find the hostel that's one block west and two blocks south of the Burger King.
The buses were really nice here… we didn't see any chicken buses!
There's a lot more English spoken here than in other CA countries.
Lessons Learned:
You should heed the advice given to you about travelling in specific places.
Don't put bags in the overhead compartments of buses.
Costa Rica Journal – Where Did We Spend Our Time?
Liberia – 1 night
What we did here: Not a heck of a lot. We stopped to break up our travel time enroute to the beach. Our timing was just a little off, as they had a major local festival starting the next day.
Playa del Coco – 2 nights
What we did here: We were still sunburned from a previous beach encounter in San Juan del Sur, so we played it pretty lowkey here. Walked through town and along the beach, played cards with Mom and Terry, and cooked some great meals!
Santa Elena/Monteverde – 3 nights
What we did here: We had a busy time here as there was lots to see and do… ziplining, a night walking tour, and exploring the cloud forest in the Monterverde Cloud Reserve.
Jaco – 2 nights
What we did here: More beach… more relaxation. We played in the warm surf, sent a few postcards home, and I helped my mom go souvenir shopping.
San Jose – 2 nights
What we did here: We explored the parks and downtown on foot, eating some tasty street food. Then we let Mom and Terry treat us to a Chinese food meal-for-four and said our goodbyes to them, before catching our bus back to Nicaragua.