After saying goodbye to my mom in San Jose, we headed back up to Nicaragua with a plan. We were working our way back north to Guatemala to celebrate Semana Santa in Antigua. There were a couple of Nicaraguan destinations we missed out on with mom, so we hit them up on our way through second time.
This roundup covers both legs of our Nicaragua journey. Anything posted in bold is from our most recent trip through, but we thought you, the reader, would appreciate a total country summary as well.
Nicaragua Summary:
Note – Statistics from this visit are in bold. Overall averages for the country are given in [square brackets].
Length of Stay: 6 days [22 days]
Average Cost per Day for Two People: $31.95 CAD [$31.84 CAD]
Cities Visited: 4 [10]
Distance Traveled: 430 km in 7 automobiles [1209 km in 19 automobiles and 2 boats]
Days Sick: 0 for Ashley, 0 for Mike [0 for Ashley, 1 for Mike]
Number of Items Lost: 0
Biggest Tourist Traps: none [touts at San Juan del Sur]
Exchange Rate: $1 CAD = 23 Cordobas
For more great stats, check out our statistics page!
Our Route:
1st trip (southbound, in blue): Honduras border – Managua – León – Las Peñitas – Granada – Isla de Ometepe (Moyogalpa, Merida) – San Juan del Sur – Costa Rica border
This trip(northbound, in red): Costa Rica border – Managua – Esteli – El Tisey Reserve – Somoto – Honduras border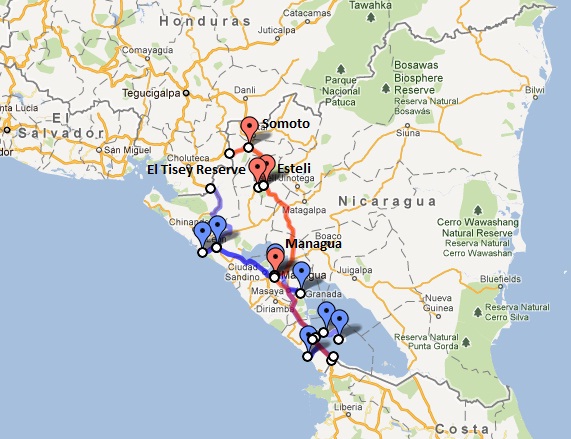 Highlights:
Seeing my mom!!!
Full moon lava hike at León
Fried yuca at the market in Granada
International Poetry Festival in Granada
Hiking through El Tisey Reserve (and snacking on the Swiss cheese made there!)
Cliff jumping in Somoto Canyon
The towns of Esteli and Somoto… they helped us find that love of Nicaragua we were looking for
Lowlights:
The food at Hacienda Merida on Isla de Ometepe (it was exceptionally tasty, and expensive to match. The alternatives were likewise cheap, and not so delicious)
The "typico" Nicaraguan meal from a mall food court in Managua… should have known better
We couldn't stay in Granada long enough to experience more than a night of the International Poetry Festival
Troubles with chicken buses… it seems some of the "schedules" are more of a suggestion that an expectation
Surprises:
Nicaragua is supposed to be the poorest country in Central America, but we didn't really get that impression… there were a lot of cars everywhere we went.
We had heard Nicaragua would be cheap. While the prices were definitely reasonable, it wasn't as cheap as we were expecting.
There is good cheese to be had in Central America… you just have to go to the middle of nowhere to find it!
Lessons Learned:
Travelling quickly through a country makes it difficult to fall in love with a place. We easily could have spent more time at nearly every town we were in, but were limited by our visas.
If your gut tells you to go somewhere because it sounds like your cup of tea, trust it. It likely will be.
Always reapply sunscreen after playing in the surf. Ouch!
Nicaragua Journal – Where Did We Spend Our Time?
For a detailed summary of each of the cities on our first trip through Nicaragua, check our original roundup.
Managua – 1 night
León – 2 nights
Las Peñitas – 2 nights
Granada – 3 nights
Moyogalpa, Isla de Ometepe – 1 night
Merida, Isla de Ometepe – 3 nights
San Juan del Sur – 4 nights
Managua – 1 night
Again, Managua was just a layover on our way to other destinations. We crashed here for a night and started out early the next morning.
Esteli – 1 night
We really enjoyed walking around the town of Esteli and people watching here. This was our home base for our trip to El Tisey Reserve.
El Tisey Reserve – 2 nights
We took a chicken bus out to the Eco-Posada at the reserve and rented a private cabin. It was really beautiful here and we hiked around much of the area. We probably could have spent more time, but alas we had to move on.
Somoto – 2 nights
We splurged on a tour to Somoto Canyon that included hiking, swimming in the canyon and cliff jumping. It was an incredible day spent in a stunning environment!