The first time I tried a pupusa, I knew I had just discovered something special. 
It was made by a Salvadorean lady in San Pedro La Laguna on Lago de Atitlan in Guatemala.  Before and since then, I've eaten some incredible street food... but nothing quite compares.  As I figured out on our travels through Central America, it's rare to find them outside of El Salvador, unless you're near the Salvadorean border.  I don't think I'd be out of line in saying that
one of the biggest reasons we wanted to go to El Salvador was for the pupusa
.  You can judge me if you want, but please not until you've tried one.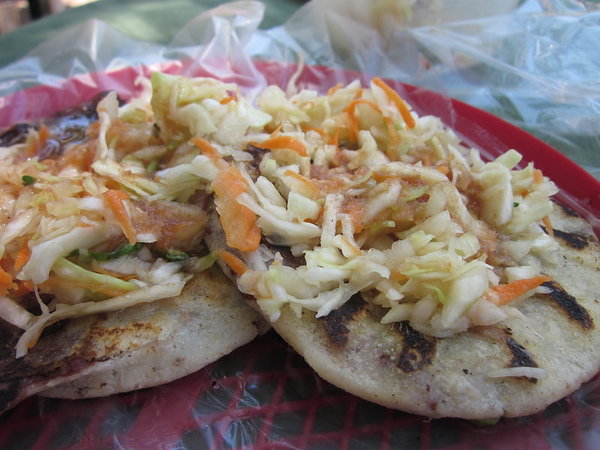 The pupusa is
El Salvador's national street food
.  It is basically a thick, hand-made corn tortilla, stuffed with beans, cheese, meat, vegetables, or some combination thereof, and fried on a flat griddle. It is typically served with
curtido
(a slightly fermented spicy coleslaw) and
salsa roja
(a watery tomato sauce). The most common flavours seem to be
queso
(cheese, usually a soft cheese called
quesillo
) and
revueltas
(a combinations of
queso
,
frijol
(beans) and
chicharron
(cooked pork meat ground into a paste, not to be confused with fried pork rinds of the same name in other countries)).  Our personal fave is frijol and queso.  It's nice having a favourite that's not super popular, as we always get freshly made ones right off the grill.
there's a pupuseria on just about every block
to experiment with.  We've paid anywhere from 25 cents to 60 cents (at a pricier beach community) per pupusa, with 30-40 cents being the most typical prices.  It takes 2-3 pupusas to make a meal for one person.
it wasn't just the price that kept us coming back - it was the absolute satisfaction we felt from eating something that's so delicious
.  And if we were without a kitchen for a week, we would do it all over again.
My body would never betray me like that.
Viva La Pupusa!
Note: When Mike found out I wrote a post called "Ode to the Pupusa" and it wasn't a poem, he was quite upset.  So here's his version of "Ode to the Pupusa," written and recorded immediately after a delicious pupusa lunch.
2 Responses to "Ode to the Pupusa"