our favourite country we've visited in Central America
.
El Salvador Summary:
Length of Stay: 
19 days
Average Cost per Day for Two People: 
$23.26
Cities Visited: 
4
Distance Traveled: 
748 km
in 17 buses Days Sick: 
0 for Ashley, 2 for Mike
Number of Items Lost: 
0
Biggest Tourist Traps: 
none
Exchange Rate: 
$1 CAD =$1 USD
(the US Dollar is the official currency in El Salvador)
For more great stats, check out our
statistics page
!
Our Route
Honduras border [El Espino] - San Miguel - Juayua (Ataco) - Playa El Tunco - Organic farm near San Andres Ruinas - Honduras border [Anguiatu]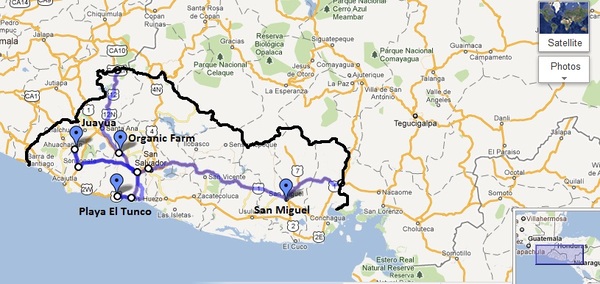 Highlights
Connecting with the food we eat while WWOOFing on an organic farm... our eleven days here were a game changer for us!
The laidback vibe and mountain scenery of Juayua and the brilliant murals in Ataco on the Ruta de las Flores
Surfing lesson in Playa El Tunco
The people... every we went, the people were beyond friendly
Lowlights
Mike got a nasty cold (on the back of another one earlier in Nicaragua) for several days, keeping us out of the surf until the last minute in Playa El Tunco
Surprises/Lessons Learned
Note: Normally, these are separate categories, but for this country they seem to be one and the same.
The ENTIRE country!  I don't think we were expecting a lot from El Salvador but we were blown away by the culture, the land, and the people.  I can't believe how un-touristed the whole area is!  It just goes to show you that the best places often don't come with the hype.
We may just be becoming vegetarians.  (I know, I know... we're surprised too.)  After eleven days of eating delicious vegan food on the farm, feeling energetic as a result, and a few documentaries on factory farming and the health benefits of organic food, we'll never look at lunch the same way again.
Sustainable food production may just be in our future.  We've never been more at peace than when we were living and working at the permaculture organic farm.  The last 27 years of my life have trained me that life can't be that easy... but maybe it can.
El Salvador Journal - Where Did We Spend Our Time?
San Miguel - 1 night
This was a stopover the break up the buses between Somoto, Nicaragua and Juayua, El Salvador.  Here we experienced our first (through eighth) authentic Salvadorean pupusas.
Juayua - 3 nights
We spent our time wondering around town, breathing in the mountain air, and enjoying the vibe.  We took in the smaller-than-normal food fair between our regular meals of pupusas.  Before we left, we took a day trip to beautiful Ataco to see the brilliantly-coloured murals that cover their walls.
Playa El Tunco - 4 nights
Mike's cold kept us from doing much for the first few days.  We did a lot of blogging to prepare for our eleven days without technology on the farm.  On our last day, we tried our hand at surfing with our first ever lesson.  Mike rocked it (as much as you can in your first hour with a surfboard) and I was  a spectacular failure... but we had a blast doing it!
Organic Farm near San Andreas Ruinas - 11 nights
We found this farm through HelpX and decided to give a volunteer experience a try.  What an experience!  We planted veggies and gardens, picked fruit, learned how to cook organic vegetarian cuisine, practiced yoga, and exercised our mind through books, discussions and documentaries on healthy living, spirituality, economics and politics.  We left different people.
We went to El Salvador for the pupusas.  Unexpectedly, it became
5 Responses to "El Salvador Roundup"