We thought we had our Bulgaria to Istanbul travel plans cased.  We booked our night bus from Veliko Tarnovo in advance, had the paper ticket in hand, and even had a friend to drive us from our village to the door of the bus station.  We knew our hostel name and address in Istanbul and pre-planned a splurge on a taxi so we wouldn't have to navigate the chaos of a new city and country in the early morning hours.
But, several seemingly small things coalesced to make a seemingly easy night of travel an unrelenting comedy of errors:
1. A light drizzle the night before departure.  The light drizzle caused mud on the sidewalk by morning.  Mud on the sidewalk meant less friction for my sandal.  And less friction meant that, before I knew it, I was sprawled on the sidewalk with muddy jeans, a bruised leg and swollen hand.  This made packing a little tougher, but still manageable.  No big deal.
2. Worn shoes.  My shoes have been with me for every outdoor activity since the Yukon River in the summer of 2010.  Don't forget that I walked 900 km across Northern Spain over concrete, asphalt, and rocky trails.  So they're a little less grippy then they used to be.
Apparently, this can be a problem as you walk down bus steps in the pouring rain.  For the second time today I found myself sprawled out in pain. Luckily my elbow nobly broke the fall for my back, letting out a crack of glee that called out to every passenger on the bus.  Bruised and broken, I hopped up to save an ounce of dignity, grabbed my bag from under the bus, and cowered in the nearby bus station to avoid the line of eyes and noses pressed against the windows of the bus.  Still shocky, I was ushered into the tiny bus company office to get our tickets for the second leg of our journey.
3. A single digit.  Normally, the difference between 28 and 29 is not great.  Unless you're travelling on the 29th of October and the guy at the bus station in Veliko Tarnovo booked your onward travel for the 28th.  As I sat in the tiny office, I was told by the agent that he expected us yesterday and there was no room on the bus for us today.  All of this was relayed in German, since we still didn't understand Bulgarian.  While he made some calls, we stopped to assess the damage from my fall.  Mike was convinced I broke my laptop from the sound of the crack, but I assured him that it was my elbow that made that sound, not my electronics.  We pulled out the laptop, iPhone, and Kindle and they were all A-OK.  I felt a little better.  I took off my rainjacket and pulled up my sleeve to examine the brave little elbow.  By Mike's expression, I knew it didn't fare as well… turns out I managed to peel the skin off it through a wool sweater and Goretex rain jacket (pretty impressive I would say, since I didn't even damage the jackets!).  Mike swore he could see bone.  The joint was swelling fairly quickly and I couldn't bare the pain of touching it to see if the bone was intact.  We bandaged it up and sat back to wait.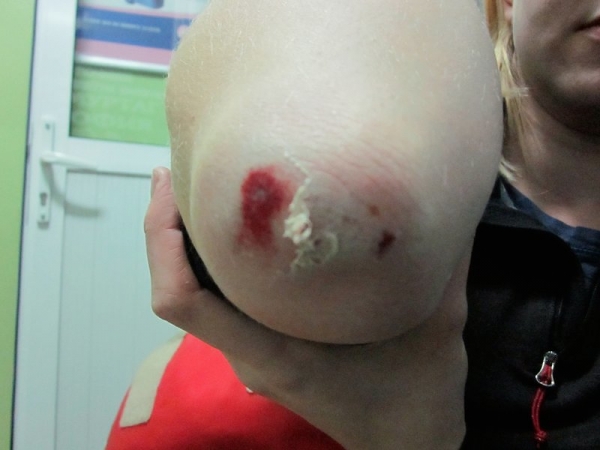 4. A box full of water.  The agent returned with a smile on his face and told us "keine problem!"  He found us a bus leaving an hour later then the one we originally booked.  It was also full, but the staff agreed to find space for us.  I didn't like the sound of that, but the idea of staying the night at the mostly closed bus station in the rain didn't appeal to me either.  We paid full fare and waited.  When the bus arrived, its attendant ushered me on board and showed me my seat… Four (partially full) cases of water crammed in behind some seats.  Nothing like sitting sideways at a 45 degree angle for a 9 hour bus ride!  The bright side:  My sore elbow was on the high side, not the low one which required some elbow propping to achieve some semblance of comfort.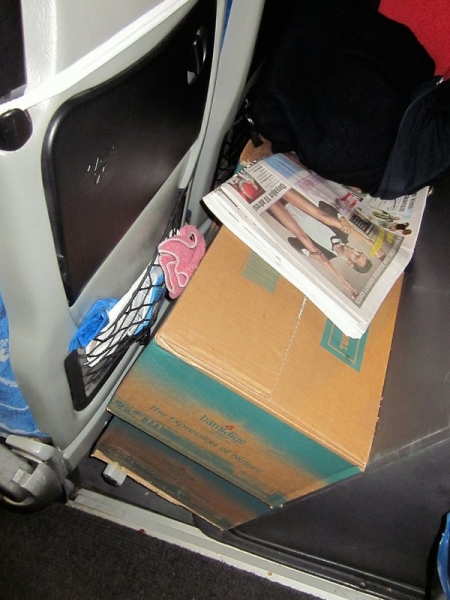 My seat for the night
5. Coffee service on a night bus.  Sounds good, right? This was our first experience with European night buses and we were pleasantly surprised to see them offer coffee, tea, water, juice, and soda.  However, every time someone ordered a coffee, Mike was required to move.  You see… his seat was not quite as luxurious as mine.  He got a newspaper and a cushion to sit on the steps of the back door.  Which is where the hot water was.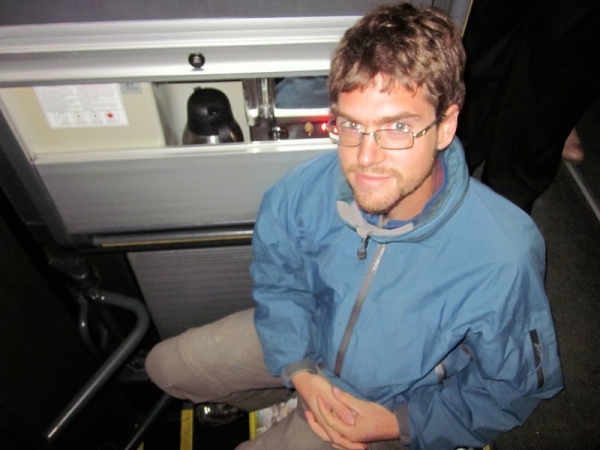 Mike's
settled
into his staircase for the night.
6. A case of mistaken identity.  Arriving at the Bulgaria-Turkey border, we were told that we would have to buy a visa for about 15 bucks each.  No problem.  We were expecting this.  We had talked to quite a few British ex-pats that had made the trip and the price sounded about right.  The attendant navigated us across the multiple security booths and brought us to the visa office.  The man looked at our passports and asked for 15 USD each.  I pulled it out.  He looked at them again, then said… "Oh, Kanadski! Not Amerikanski… oh… wait…" He turns around, rifles through some papers, and finds the sheet of Canadian visa stickers.  Turns out they are 60 USD per person.  Unbeknownst to us, Canadians are required to pay 3-4 times as much as any other country to enter Turkey.  Yikes.
7. A broken ATM machine.  When our second bus was just two hours outside of Istanbul (the company managed to find us another bus parked at the same rest stop with some spare seats that was headed our way. We fell into a deep sleep the second our butts hit the seats.
When we finally arrived I was so sore, I could hardly get up.  We got our stuff together, grabbed our backpacks and found a taxi.  We showed him the address for our hostel and he said "OK." We asked how much.  He said "40 lira."  Thinking this was way too much, but too sore and tired to even haggle, we said "OK."  We asked if he could stop at an ATM so we could take out some Turkish money.  He didn't understand so we mimed the action while holding a debit card. "OK," he said. We got in and he drove us along the bus terminal (which, if you've ever been at Istanbul's main bus terminal is larger than most airports I've been at) and stopped at an ATM.  It was out of service.  We hopped back in and he drove us to a string of banks where I got our card to work, not on the first, but the second machine we tried (I'm pretty sure I was just putting in the wrong PIN at the first one in my sleep-deprived state).
We got back in the cab and our driver asked us where our hostel was.  He already had the paper with the address on it, so we pointed at it.  Obviously he wasn't sure where that was.  He stopped and asked another cab.  Drove a little farther, and stopped to ask another.  He tried to call the hostel's number but couldn't get an answer.  Then, asked several more cab drivers on the street.  Phoned a friend.  Asked the audience. Oh… Google Maps, how handy you could have been here!
Finally, after something like an hour or more in the cab, he stumbled across our hostel and dropped us off at the door.  "50 lira," he said.  "What?!? No way!"  It doesn't matter how tired we were, we weren't overpaying by that much.  He could have told us he didn't know where the hostel was.  He could have actually turned on the meter in the front instead of quoting us a price.  He could have told us when we asked to stop at an ATM that he would charge more.  After a little yelling in the street, we paid him the 40 lira we rightfully owed and walked into our hostel.  Luckily, he didn't follow us in cause he was mad.
To Sum Up:  We can certainly say our quiet little overnight trip to Istanbul was an adventure.  At the time of writing (12 days after the trip), I still have souvenirs from it: a black bruise on my thigh the size of a softball, two horizontal linear bruises on my back where it connected with the stairs, and a bruised elbow that I still can't put pressure on.  But that's part of travelling, isn't it?  We survived and hey- it sure makes for a better story than we got on the bus, fell asleep, and woke up in Istanbul, doesn't it?
3 Responses to "Seven Little Things That Can Make A Good Travel Night Turn Bad"