Mike and I arrived in Las Vegas today for my good friend's (Tamara's) wedding.  Our flight got in at 1:05 pm local time and our plan for the day was to check in to our off-strip hotel and get to REI (which is open until 9:00 pm) to buy our backpacks for our RTW trip.  And we wanted to do this the most economical way possible (i.e. without having to pay for a taxi).
Sounds simple enough, right?
I mean, we figured we are reasonably intelligent individuals, Las Vegas is full of tourists trying to get around the city, and everyone speaks English.  Taking the bus to the hotel and REI would be a piece of cake.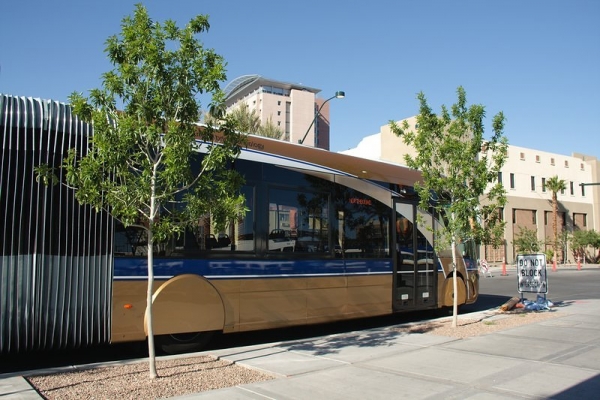 A Las Vegas city bus
… Or not.  Because here I sit, typing out this blog entry on our Kindle (which in and of itself is a great and painful feat), without a shiny new backpack to play with.  We never did make it to REI today.  But man did we ever give it the good old college try.
Here are the lessons I learned about taking public transit today:
1.  If you don't have exact change, your bus trip just got more expensive.
2.  Don't just write down the address of your hotel/destination.  Look it up on a map before you venture out.
3.  Better yet, print a google map of your hotel's location.
4.  Don't just write down Google Map's bus directions and try to follow them without knowing the name of the stops.
5.  Don't assume that you can successfully make several bus transfers without a TRANSIT map of any kind.
6.  Don't assume that you can successfully make several bus transfers without even having a CITY map of any kind.
7.  Even if a bus is an hour and a half late, don't give up on it arriving.  If you do, and you start walking away, you will turn to see it drive by you five minutes later.
8.  If the name/route number on the bus that pulls up is not the one you are looking for, don't get on it – no matter how tired you are of waiting for the one you want.
9.  If you're at a transit station that all the major bus routes go through and the bus you're waiting for does not show up, find an alternate route while you still can.  Don't hop on a random bus that also stops at the bay you're waiting at and assume it will take you somewhere useful.
10.  Know where your stops are.  Otherwise, the trip will be much longer and more scenic than you ever imagined.
11.  Even if a bus appears to loop around on its route, don't assume you can just stay on it until you get back to the stop you missed.  You probably need to switch buses.
12.  No matter what happens, take advantage of every opportunity to see new things, meet new people, and strike up a conversation with someone around you.  The other stuff can wait.
Now hopefully these lessons have stuck.  Because tomorrow morning, we're going to try it all over again!
Have you had any misadventures with public transit during any of your travels (or in your hometown, for that matter)?
5 Responses to "12 Things Vegas Taught Me About Taking Public Transit"