post over at Get Up and Globe
) - as I consider all of the things I'm looking forward to, I can't help but look back on the things that I'll be leaving behind.  Here are a few of them:
1.  Family & Friends
quantum stages
, I guess I'll have to settle with email and Skype to stay in touch.
2.  Our Cat, Pi
3.  Quachie Food
4.  Board Games
Mike and I love to play board games.  Sometimes it's just each other, sometimes with friends.  We have spent many an afternoon talking and laughing over a game board.   We're both super competitive so sometimes it's pretty quiet after one of us backstabs the other on our quest for victory.  The first thing we secured a home for (after Pi, that is) is our collection of board games.  Somehow I don't think they'd travel very well in our packs.
5. China Pastry
It might seem weird to you that I've got two restaurants on my list, but if you had ever tasted a bun from China Pastry you'd understand its inclusion.  My favourite buns are the plain buns, but I'll miss all the other flavours (BBQ pork, Szechwan vegetable, hot dog, cocktail, etc.) equally.  Hopefully I will find on my journey a savoury pastry to equal these delicious packets of perfection
.
6.  Boston Lee Days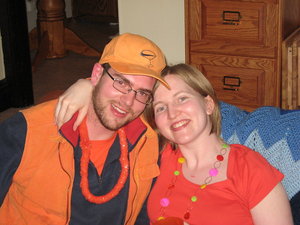 For as long as I've known Mike, he's celebrated Boston Lee Day with his friends on every Friday the 13th.  It's a happy orange holiday that we always look forward to.  Celebrations were moved to our place after the bar that originally hosted them shutdown in 2007.  When the next Friday the 13th hits (January 13, 2012)
,
Mike and I will be sure to don some orange and celebrate wherever we are.  Hopefully they find a new venue back home to join in.
7.  Teaching
I love teaching.  For the past four years, I have been teaching math at the same high school in Regina.  It's become my second home.  I didn't realize how much I would miss it until the last couple weeks, when I started going through the series of goodbyes that the end of the school year has brought (last day of classes, each final exam day, and still to come, report card day).  There have been lots of hugs and well wishes, and even a spontaneous round of applause from one of my classes that brought me to tears (just before I gave them their final exam, no less).
There are a few things that I won't miss, and I think they might be worth mentioning too:
1.  The Alarm Clocks.
Neither Mike nor I are morning people.  'Nuf said.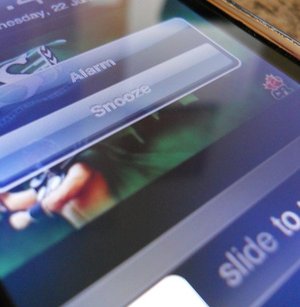 2.  Our Bed.
We have been in desperate need of a new mattress for about a year.  But we were too cheap (frugal?) to buy one, since we knew we'd be leaving in July.  This may have been a smart decision, actually.  We've basically been in training for the variety of beds we're bound to encounter in budget hostels.  In fact, a lot of the hostel beds may be a step up.
3.  The Stuff.
I really don't think I'm going to miss all the stuff I'm leaving behind.  Especially things like the TV, the stack of laundry (do I really need that many clothes to get dirty?), and everything else we've gotten rid of already.
4.  The Commute.
Spending almost two hours driving each day is crazy.  That's 12.5% of my waking hours!  What a waste.
5.  The Schedule.
I think.  I've always been a fairly by-the-book kinda gal, so maybe I won't like not knowing what tomorrow will bring.  For as long as I can remember, I've had school or a job to live by... even in the summers.  But then again, the more I think about it the less I think I'm going to miss having to follow a set schedule day in and day out.
For everyone out there traveling the world, what do you miss the most?  What's the thing you're most happy about leaving behind?
As our jobs wind down (only 6 working days left!) and our trip fast approaches (only 13 days plus a few hours.. crazy!) it's hard not to think of the things we will miss when we get on that plane without a return date.  I'm sure this is a stage that every traveler goes through (see Skott's
21 Responses to "Some Things That I Will Miss (And A Few That I Won't)"