On Friday we finished what was 5 weeks of Spanish Class for me, and 6 weeks for Ashley. We took our classes at the Cooperativa Spanish School located just up the hill from the Santiago Dock. The school (or escuela) is located in the middle of a well kept garden full of flowers and various fruit bearing plants including lemon trees and coffee plants. Inside the garden there are roughly a dozen thatched roofs covering an equal number of tables and twice that number of chairs. All instruction here is 1 on 1 with a qualified instructor (as in university trained). As for the school itself, I really have nothing but good things to say.  However, since they are not paying me to write this, I'll try to keep it brief:
The instructors are friendly, helpful and knowledgeable.
A portion (10%) of all tuition is given out as food aid to 20 different needy families in San Pedro. As a student, you are given the opportunity to visit one of these families and deliver the food yourself every second week.  A very rewarding experience.
The school is not just for foreigners. The teachers also teach Spanish to the local population, many of whom speak only their indigenous Mayan Language.
Outside of class time, they provide free activities several nights a week. The general staples are movies on Tuesdays (illustrating Central American history, sometimes graphic, always tear-jerkers), salsa classes on Wednesdays and conferences on Thursdays (where a live speaker comes to speak about and answer questions on a topic of local importance in Spanish).
Other excursions the school arranged at minimal extra cost.  Examples include a kayaking trip to the beach, traditional weaving classes, zip-lining, a coffee plantation tour, and hiking to the top of two mountains (the Indian Nose and the San Pedro Volcano).
I'd like to thank Scott and Shawna from Get Up And Globe for telling us about this school, we thoroughly enjoyed our time here.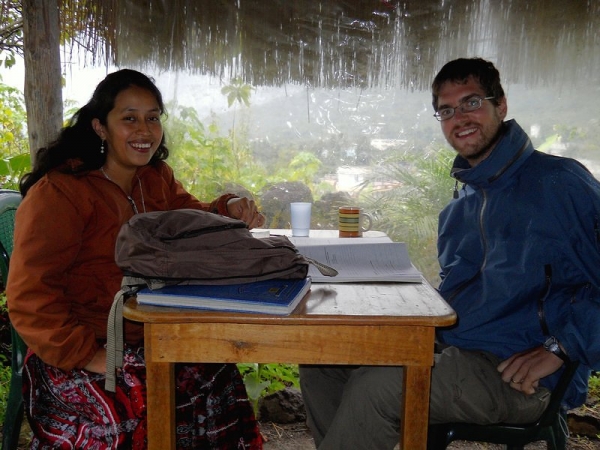 Mike and his teacher Lucy
What we learned in 5+ weeks:
When we first started looking into Spanish Classes, we really wanted to know just how long we would need to take classes for until we could speak Spanish. Our goal was not just to be able to order a drink in a bar or book a hotel room, but to be able to actually have a conversation with someone.
To give you an idea of where we started, here are a few of the things we actually said in Spanish because we didn't know any better:
She believes in fish
Where I live it is very plate
Can we room tomorrow one night corn
We were truly that good.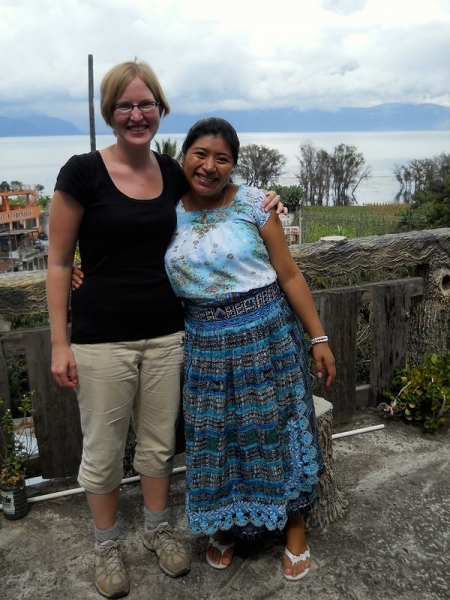 Ashley and her teacher Flores
So, after 5 weeks of study, you're probably wondering if we've reached our goal. Honestly, not quite, but we are close. I think the knowledge base is there, it's just a matter of getting out there and practising. We can generally understand most of what is said to us and we can get our point across fairly well too.  Unfortunately, it still takes us a fair amount of time to think of the words we are trying to say and to conjugate our verbs.  Most of what we require now is practice.
Personally, I think 5 weeks has been a great introduction to Spanish. For me, it wasn't until about half way through week 5 that I was able to understand almost all of what was being said to me.  Any less, and I could still get by, but I wouldn't have been nearly as conversational as I am now.
Here's an idea of the language concepts we learned to say. Of course, we can also turn them into questions or negate them.
I do this
I'm doing this
I have done this
I had done that
I will have done this
I probably did that
I did this
I was doing this
I am going to do this
I will do this
I might do this
I do this for you
I do it
Do this
Really, a good chunk of the practical parts of a language. There's still a lot more lessons for us to learn, for example on my last day of class my instructor estimated that it would take me another 3 weeks to complete their program. I may go back to class if I find there are a few concepts I can't wrap my head around, but it seems to me the more I practice the better I get, and the rest may just fall into place without the need for more direct instruction.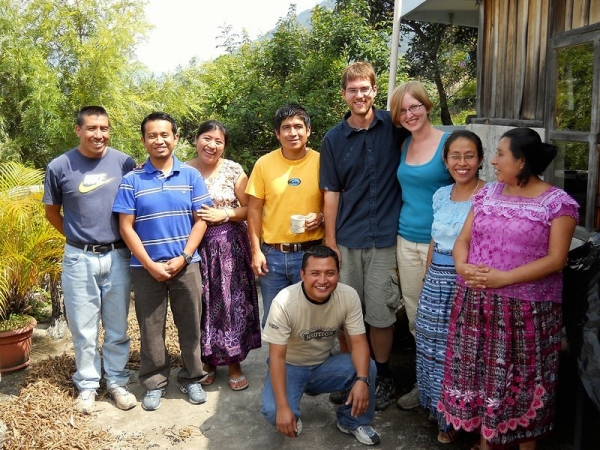 The teachers of Cooperativa and our giant selves
3 Responses to "Spanish Classes in San Pedro La Laguna"