We met up with my mom in Nicarauga, and made a speedy path through the country.  We might have lingered longer, but our C-4 visa which covers Guatemala, Honduras, El Salvador, and Nicaragua was just about expired after our lengthy stay in Utila, Honduras.  We had to get to Costa Rica to reset it, but even so, we left the Nicaragua on the last possible day, taking in as much as we could.
Nicaragua Summary:
Length of Stay: 16 days
Average Cost per Day for Two People: $31.80 CAD
Cities Visited: 7
Distance Traveled: 779 km in 12 automobiles and 2 boats
Days Sick: 0 for Ashley, 1 for Mike
Number of Items Lost: 0
Biggest Tourist Traps: The beach at San Juan del Sur was full of touts hawking everything from jewellry and sunglasses to wooden bowls
Exchange Rate: $1 CAD = 23 Cordobas
For more great stats, check out our statistics page!
Our Route:
Managua – León – Las Peñitas – Granada – Isla de Ometepe (Moyogalpa, Merida) – San Juan del Sur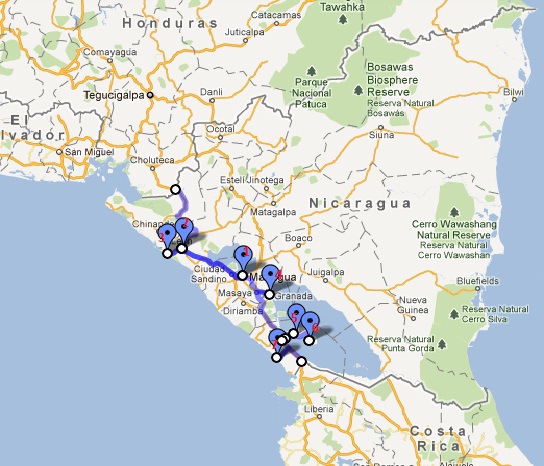 Highlights:
Seeing my mom!!!
Full moon lava hike at León
Beautiful sunset walks at Las Peñitas
Fried yuca at the market in Granada
International Poetry Festival in Granada
Lowlights:
The food at Hacienda Merida on Isla de Ometepe (it was exceptionally tasty, and expensive to match.  The alternatives were likewise cheap, and not so delicious)
The "typico" Nicaraguan meal from a mall food court in Managua… should have known better
We couldn't stay in Granada long enough to experience more than a night of the International Poetry Festival
Nicaragua didn't enamour us the same way as other Central American countries have – probably because we had to move too quick to let it
Surprises:
Nicaragua is supposed to be the poorest country in Central America, but we didn't really get that impression… there were a lot of cars everywhere we went.
We had heard Nicaragua would be cheap.  While the prices were definitely reasonable, it wasn't as cheap as we were expecting.
Lessons Learned:
Travelling quickly through a country makes it difficult to fall in love with a place.  We easily could have spent more time at nearly every town we were in, but were limited by our visas.
Always reapply sunscreen after playing in the surf.  Ouch!
Nicaragua Journal – Where Did We Spend Our Time?
Managua – 1 night
We didn't really see much of this place… it was just a meeting point with Mom and Terry.
León – 2 nights
León was a beautiful city with lots to see and do.  We took a tour of the Cathedral, wandered around an art gallery, and explored a strange folklore museum housed in a former prison.  The highlight of our time here was the full moon lava viewing hike on Volcan Telica which we did with Quetzaltrekkers.
Las Peñitas – 2 nights
This quiet black sand resort beach was a great place to relax after our all night hike.  We napped, swam, and walked the beach at sunset.
Granada – 3 nights
Granada was probably our favourite city we visited.  We joined Mom and Terry for a horse and carriage tour of the beautiful city, explored the graveyard where the first president of Nicaragua can be found, wandered the parks, went to a chocolate museum and caught the start of the International Poetry Festival.  We watched the performance of Nobel Prize winning poet Carlos Martinez Rivas' work and took in the free Katia Cardena concert.  Mom and Terry did a boat tour of Las Isletas, while we wondered the city getting Mike's glasses fixed.
Moyogalpa, Isla de Ometepe – 1 night
This town was where the ferry dropped us off.  It was almost sunset when we arrived, so we decided to stay the night before moving on.

Merida, Isla de Ometepe – 3 nights
We stayed at a hacienda just outside this small town.  The location was beautiful, but food options were limited.  The hacienda had stellar food, but a small and expensive menu.  Some of the best food we had here came from the Valentine's Day festival in town, which included some bull riding.  We went horseback riding to San Ramon waterfall, walked to some Petroglyphs, learned how to make tortillas and hung out in the hammocks at the hacienda.
San Juan del Sur – 4 nights
This was a touristy beach town.  We played in the waves until our blistery sunburns kept us out of the sun.  Spent some time relaxing, reading, visiting with Mom and Terry, and catching up on the blog.
For more of our Nicaragua pictures, check out our gallery.
7 Responses to "Nicaragua Roundup"