Just about every traveller that we've come across who's been through Costa Rica has had the same thing to say:
Costa Rica was nice, but we only stayed half the time we planned on. It's really expensive.
It's not too surprising, as many of the locals we met in Nicaragua had similar things to say:
Costa Rica is beautiful, but it's expensive, and a bit too dangerous.
Okay, okay. It was starting to sound a lot like what we had heard about Belize before we visited it firsthand. But Belize wasn't overly expensive. In fact, when all was said and done, it turned out to be cheaper than Mexico, and still well within our daily budget. So I was pretty skeptical about all this price hype.
Sad to say, all the hype was true. Costa Rica is expensive. Dare I say too expensive for us. It all started when we arrived at the border. They have a policy where they do not grant entry visas unless you can prove that you have onward travel tickets. We didn't have said return tickets, and were stopped at the border on our first attempt through.
Sitting in nomads land, we didn't have a lot of options. All we had was a Tica bus station selling one way open ended tickets from San Jose, Costa Rica to Managua, Nicaragua for $25 a piece (at least double the price it should have cost using public transportation and without the flexibility of being able to break the trip up over several days and several towns). We bought the tickets because we had no choice, and slipped through the border on our second attempt without issue.
I freely admit it, we didn't get off to a good start with Costa Rica. But costs kept racking up. Accommodation was a big shock. We had been accustomed to spending somewhat less that $10 a night on average in the rest of Central America. Once we crossed that border, the cheapest accommodations we could find were pushing $30 a night. We may not have minded the hefty accommodation bill so much if it translated into a bit of luxury, but it didn't. These were the types of places where the showers didn't work, and there were no toilet seats.
Then the nickle-and-diming started. Every thing you want to do in Costa Rica costs extra. While we were accustomed to spending between $0.50 and $2 to see an art gallery or museum in other countries, the same entrance fee here would be a minimum of $10 per person. That same $10 could buy you entrance to a beach, $18 for entry to a nature reserve for the day, another $10 to see a waterfall, and so on, and so on.
In the end, we limited ourselves a lot, choosing not to pay our entrance fees more often than not. We had originally planned to travel farther south and see more of the country before leaving, but after only 10 days in the country, we decided to cut our losses and use that bus ticket we were forced to buy.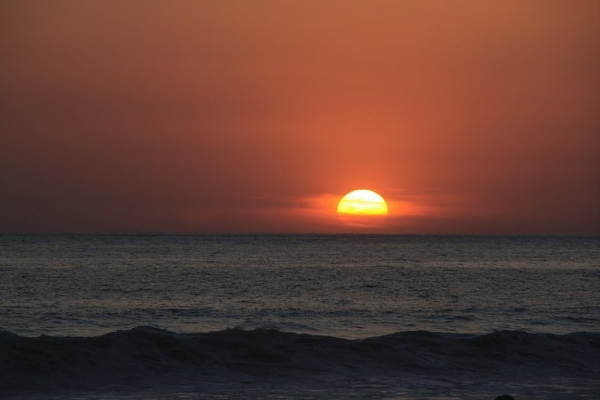 Sunsets were still free at least!
4 Responses to "Costa Rica: Cuesta Mucho"