This last weekend, Easter weekend, Ashley and I made our way up to North Battleford, Saskatchewan to visit family and to celebrate my grandfather's 77th birthday. We try to make it up that way at least once a year, sometimes for Easter, sometimes for Thanksgiving, so the trip was not a first for us.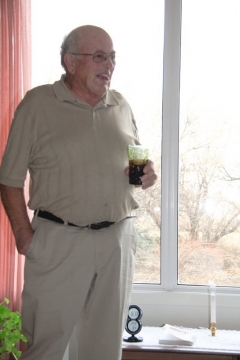 With our imminent departure only 70 days off as of this writing, things didn't quite feel the same as they had in the past.  It started with our drive up.  Passing through Saskatoon, the next major shopping centre outside of Regina, we had no choice but to stop for a couple of hours and try on backpacks.  We now know to budget more than two hours for trying on backpacks.  We could have easily used a couple hours more.  Sadly for us, but luckily for you, this won't turn into a cliched "We Bought our Packs" post.  Though we will still subject you to one when we do.
We spent most of Friday eating and visiting.  Pretty normal, but the conversation seemed to keep coming back around to our trip.  I pulled out the camera and started taking a few photos.  Soon after, we started talking about camera gear we were taking with us on our trip.  One thing led to another and Ashley and I managed to convince ourselves that we needed an ultra wide angle lens for our camera.  I had no choice but to lock myself away for a few hours and do some internet research followed by a round of ebay bidding.  This process was a lot more painful than I first anticipated, mostly because of the old school 56k dial-up internet connection, and it certainly cut into my visiting time.
Saturday was the big family supper.  My great grandmother (98 years old) was there, as were my grandpa and grandma, uncles, aunts and cousins.  The whole works.  Again, we spent most of the day eating and visiting.  We talked about our trip, passed out Traveled Earth Business Cards, and started Project: Photos of Friends and Family.  The project itself is quite straight forward.  We are trying to collect photos of our friends and family to take with us.  It'll be nice to have some photos to look at when we get homesick.
Saying goodbyes was perhaps the hardest part of this trip.  I think everyone was acutely aware that we may not see each other for a very long time.  Despite the tough goodbyes, it was nice to have the chance to visit one last time before our departure.
Here's our project so far.  If you don't see your photo we'd appreciate it if you reminded us to take one next time we see you.
2 Responses to "Project: Photos of Friends and Family"