Unfortunately the band DayOne was not in Las Vegas (sorry for the misleading title). As you may recall, we recently had some practice booking flights for our friends wedding in Las Vegas. Last week we got to take those flights and spent 4 nights in Sin City.
With our big RTW trip coming up fast (24 days!) we went to Vegas with a bit of an agenda. Of course the wedding was a big part of that agenda, but we also wanted to do some last minute shopping, practice holidaying on a budget, and test out some of the stuff we plan on taking with us on our trip.
For some reason, I had a whole lot to say about our first day in Vegas, so I made it its own post.
Day 1:
We arrived in Las Vegas with a few things to get done before the wedding party showed up (we arrived a day earlier than everyone else).
First and foremost, we wanted to get to our off-strip hotel using public transit. We managed, but not without a fair bit of walking in the 30C heat. Our mistake was arriving without a map showing the location of our hotel. I thought an address would suffice, but it seems nobody in Las Vegas uses addresses. Although the bus driver and local patrons were very friendly and tried their best to tell us where to get off, we were unable to explain where we were going as we didn't know what landmark casino it was near. In the end, we were only out by about seven (huge) blocks. I was kind enough to haul all of our luggage, while Ashley was kind enough to gather some photographic evidence so I could brag about it later.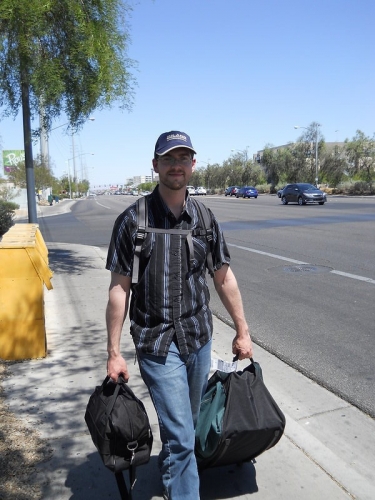 Mike carrying all the luggage
The next, and last, item on our "to do" list for Day 1 was to take the bus to REI and shop for backpacks. As you can probably gather from the post we made on the road, it didn't go so well. The Westcliff Airport Express bus leaves from Fremont Street roughly every hour on the weekends. Unfortunately for us, it was 1 hour and 20 minutes late.
We spent that hour and twenty minutes talking to a local cartoonist who made his living drawing caricatures on Fremont street during the summer. I imagined for a bit that our RTW had already started and we were trying to figure out how we could fill our time by asking the locals. Of course, we didn't have the luxury of time to follow up on any of his recommendations, but we did learn a fair bit.
Vegas's busy season is the hot summer months (I always thought people went there to escape the winter). Apparently there are so few people in the winter that most street performers leave Vegas all together and don't come back until the following summer.
The university area was recommended as a place to shop and eat as it has both unique boutique shops and cheap food.
There are a lot of things to do outside of Vegas. He recommended visiting the Red Rock Canyon, Mt. Charleston, The Grand Canyon, and Lake Mead.
And last but not least, the bus drivers trade bus routes every 4 months to avoid chronic boredom. As luck would have it, today was the trade day and the undoubted cause of our late bus.
After our public transit friend gave up and hailed a cab, we decided to follow suit (giving up, not hailing a cab). That's where we ran into Brian and Mike, two freight train hoppers who've been riding the rail for the last 6 weeks. They started in Massachusetts and are on their way to L.A. As I inquired, they explained that this super budget friendly mode of transportation is illegal, and one must be extra careful not to be caught. To cope with this, the internet has come to the rescue allowing the freight hopping community to share the best places to hop on and off trains while avoiding security.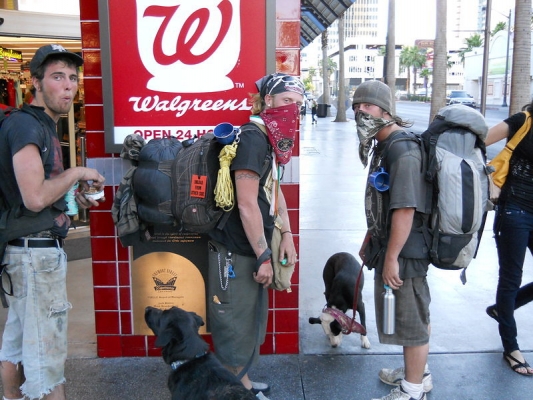 Brian and Mike, two freight train hoppers
Moments later, our bus passed us by. Too late to catch the next one, we took a stroll down Fremont Street and eventually went back to our hotel for a swim, wrote our first blog post from the road, and settled into bed. All in all, one of my favourite days we spent in Las Vegas. It turns out I enjoy meeting new people, and the conversations more than made up for our troubles with the transit system.
7 Responses to "DayOne in Las Vegas"