If you know me and my love of numbers, you were probably wondering where all the stats were in our one year travel post.
Well, here they are!  I never meant to disappoint.  I simply had so many wonderfully awesome and arguably useless stats that they needed their own post.  And don't worry… I've managed to contain myself to just a single pie chart.
The BIG Number: Budget
We (ok, I) have meticulously written down every penny spent in the past year… the cost of each hotel room, pupusa, dive lesson, tube of toothpaste, bandaid and bottle of water has been carefully recorded in a notebook and then transferred to the nifty little site, budgetyourtrip.com.
So, at any given time, I know our spending to the penny.
Drum roll please…
Your browser does not support the audio tag.
Total Spending after One Year of Travel (for 2 people): $20,040.68 CAD (16,013.46 €)
Average Cost per Day (for 2 people):  $54.76 (43.76 €)
Our original budget goal was $100/day, so it seems we're doing pretty good spending wise.  Obviously, that goal was too high for us. Having realized that about 6 months ago, we decided to make it our spending cap goal for expensive places.  Our new budget goal is $50-55/day, but as with everything else on this journey, even that's a work in progress.
Here's a breakdown of where we spent the money: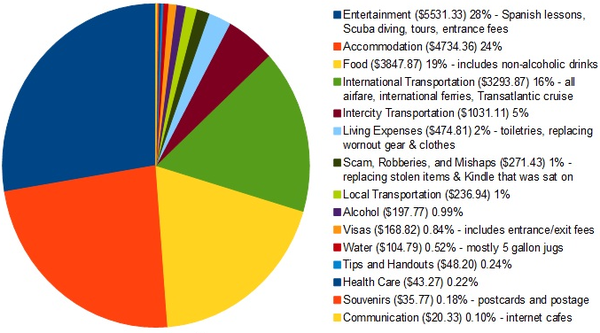 But wait, there's so much more…
Countries & Transportation
Countries visited: 11 (Visited means we spent at least 24 consecutive hours in the country) – Mexico, Guatemala, Belize, Honduras, Nicaragua, Costa Rica, El Salvador, USA, Spain, France, Austria
Border crossings: 17
Number of times we were turned back at a border: 1 (in Costa Rica, but they let us through after making us spend $50 on overpriced return bus tickets)
Total Distance Traveled: 29,764 km
by plane: 9492 km on 6 flights
by bus/automobile: 9444 km on 98 buses/colectivos/pick-up trucks/vans/tuk tuks
by train: 185 km on 4 trains

by boat: 9662 km on 32 boats
by foot:  923 km
by bike:  58 km
Most memorable mode of transportation: other than walking the Camino, definitely hitchhiking and getting a ride in the back of a pickup with dozen other people in Mexico
Accommodation:
Average daily accommodation cost: $12.94 CAD
Most expensive bed: $78 CAD for dorm beds in Paris (but it included breakfast and supper!)
Least expensive bed (excluding free places): $3.65 CAD for a private room ensuite in San Pedro La Laguna, Guatemala
Number of different beds slept in:  98 (39 of these were on the Camino)
Number of nights spent sleeping in:
Private Rooms: 146
Dorms: 95 (most of these, 52, were in Europe – while on the Camino and to cut costs in cities)
Apartments: 84

Five star cruise ships: 14
Work exchange programs: 11
Friends' Homes: 5
Couch Surfers' Homes: 5
Buses:  2
Airports: 2 (both in Barcelona… and let me tell you, it's a lot more comfortable when you're past security!)
Private Islands: 1
Climbing a Volcano (ok, there was no sleeping), then watching the sun rise:  1
Food
Average daily food cost: $10.51 CAD
Meals cooked/purchased in grocery stores & bakeries: 61%
Meals eaten out: 30%
Meals included with accommodation/tours: 8%
Free meals: 1%
Favourite foods:  tacos, Guatemalan pineapple, baleadas; Jewel Cay donuts, gingerbread, banana tarts, and pizza; pupusas, gallo pinto,  fried yuca balls, mangoes, cashews and cashew fruit, French Brie, Paris baguettes, aged Spanish sheep's cheese, lentils (yup, our home province is the second largest producer of green lentils worldwide, and we had to travel halfway across the globe to try our first taste of them), chocolate croissants, dinkelbrot, and really any bread in any bakery in Austria
Health
Weight Lost:  56 lb (Mike – 22 lb, Ashley – 34 lb)
Sick Days:  20 (17 for Ashley, 3 for Mike)
Bouts of Traveller's Diarrhea/Food Poisoning: 3 (Ashley – 3, Mike – 0… man with the iron stomach!)
Number of Doctor's Visits:  1 (needed physicals for divemaster program)
Number of Times We Probably Should Have Seen a Doctor, but Didn't: 3
Surprise, surprise, it's all Ashley here – 8 consecutive days of Montezuma's revenge in Mexico (should have self-medicated), nasty sinus infection in Utila (did self-medicate after I realized it wasn't going away), and food poisoning on the cruise ship (they require that you report all gastrointestinal issues to the ship's doctor, but I self-quarantined myself while I was sick instead of a forced quarantine)
Unintentional Changes to the Gear List
Number of Times We Were Robbed: 3 (camera pickpocketed in Quetzaltenago, Guatemala; bag stolen from overhead bin of bus in Costa Rica; wallet with ~$15 pickpocketed in Antigua, Guatemala)
Number of Items We Lost:  5 (Ashley's hat, both our Nalgene bottles, camp soap, Ashley's quick-dry Northface t-shirt)
Number of Items Broken: 2 (Ashley sat on her Kindle in Antigua, Guatemala and Mike's (cheap) beard trimmer)
Other Stuff
Money Earned from Working:  Mike – $30 (divemaster job = $5, cutting the grass at our apartment in Austria = $25), Ashley – $0
Number of Photos Taken:  6071 (actually, this is the number we've kept… many many more were taken)
Books Read:  96 (Ashley – 56, Mike – 40)
Postcards Mailed Home:  34
Souvenirs Purchased: 0 When I left home, I fully intended to buy something from each country or region and mail it home.  That way, when we eventually settled down, we could have a house full of cool stuff from our travels.  I even made Mike promise me that he wouldn't harass me about the money when I did the souvenir shopping.  But, to date, I never saw anything that I just had to have. I'm 100% satisfied with the memories (and maybe a few photos) of our experiences… no stuff necessary!
Number of Times We Paid to Get Our Laundry Done:  1 (Rio Dulce, Guatemala… I've never seen it rain so much for 3 days straight… we had no hope of hanging our clothes to dry)
Mountains Summited:  4 (doesn't include mountains crossed on the Camino, as they weren't summited)
Total Time Spent Underwater:  74 hours, 30 minutes (each)
UNESCO World Heritage Sites Visited:  19
Like these stats?  You can find just about all of them, updated year-round, on our permanent stats page.
11 Responses to "A Year of Travel through Nerdy Numbers"