366 days ago today (no, I haven't forgotten how many days are in a year… 2012 was a leap year), we stepped off a plane in Cancun, Mexico with no idea what the future would hold.  Literally.  We had no plan past getting to our Couchsurfing host's house and even that turned out to be an adventure in itself.
Here we are, one year later, with a totally different perspective on life and travel.  If you've been following along the whole way, you'll know what a journey it's been.  Here's a little summary for you.
Where Have We Been?
After a year of ever-changing plans, we've discovered the only itinerary we can claim to have is the list of places we've already been.  Everything else is up in the air and we wouldn't have it any other way.
Before we left, we posted a rough itinerary that we haven't really looked at since.  So here's a visual of where we've actually been.
Where We Are Now?
The literal answer to that question is an apartment in Loosdorf, Austria.  But you could have read that on our sidebar.
Digging deeper, I can say we are happy.  And that's all that really matters, isn't it?  We now value happiness in a way that we never did before.  We wake up each morning excited to experience the day. We hope that no matter what happens, this will be true for the rest of our lives.
We have both explored spirituality to a deeper level than ever before, particularly the ideas and values of Buddhism (Ashley) and Hinduism (Mike).
We are now happy, healthy vegetarians.  Contrary to popular belief back home in Saskatchewan (the land of meat and potatoes), we CAN get enough protein, iron, and all that other good stuff from plant-based food.  Not only are our bodies not suffering from four months of being vegetarian, they have never felt stronger or more energetic.  And our heads are clearer too.
We've talked about the physical changes we've gone through many times before, but here's a quick reminder. Mike has lost nearly 20 pounds (9 kg) and I've lost about 35 (16 kg).  We've gained muscle mass.  Our hair has grown out and been bleached by the sun.  Our skin has a healthy glow, instead of the pasty whiteness of people who spend all their time indoors.  Even though we're a year older, we look and feel significantly younger.  (In fact, we have a hard time convincing fellow travellers that we're not fresh out of university.  One lady was sure we had just graduated high school!)
Here's a little photo montage of us in each country we've passed through… notice the evolution from the chubby faces and glazed expressions in the first ones to the happy, healthy people at the end?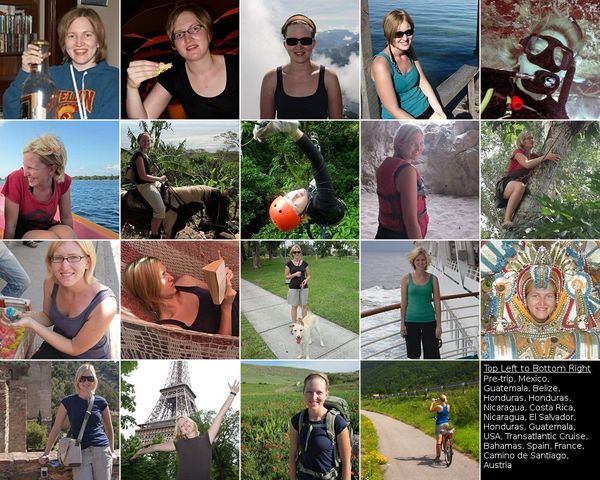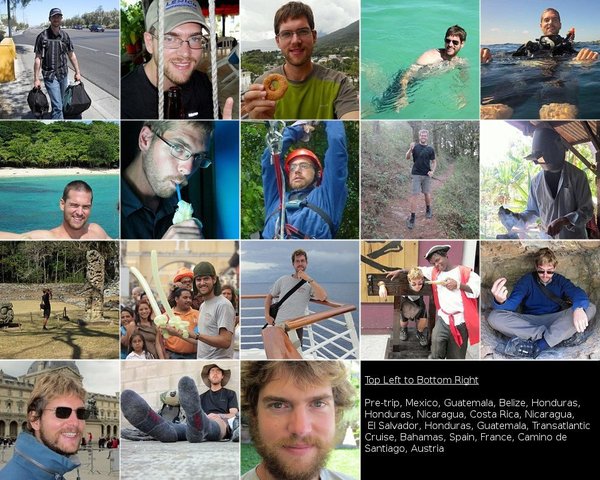 Where Are We Going?
This is a loaded question.  We have learned a lot about our travel style in the past year.  Ask either of us what our favourite experiences were, and we won't hesitate to list the Camino de Santiago in Spain, becoming divemasters in Honduras, working on an organic farm in El Salvador, and learning Spanish in Guatemala.  We saw some amazing things in between, but we always come back to the list above.  What do all of these things have in common?  Two things… 1. they required us to STOP moving around and STAY PUT for a while (okay, we were constantly moving during the Camino, but we were always on the Camino) and 2. we were DOING something.  So there you have it… as we travel the world, we want to stop, do something, and really experience a place.
Which brings us to our next "plan".  On July 26th, we have to leave Austria (and the wider Schengen visa zone).  We'll spend a few nights each in Zagreb, Croatia; Belgrade, Serbia; and Sofia, Bulgaria to break up the bus rides, before settling in for at least a month at an organic farm in north central Bulgaria.  There, we will help harvest grapes, learn how to make rakia, play with their dogs, and train in combat jujitsu.  Sounds pretty great, right?  We think so too.
After that, who knows?  We're not heading home yet. The world is our oyster and we plan to take our sweet time exploring it.
13 Responses to "The One Year Post: Where We've Been, Where We Are Now, And Where We're Going"