After reading through our 4 part journal of the Lycian Way and some of the comments we received (thank you by the way, we love comments), it became apparent that our description of the long distance trail may have sounded… well… um… rather unpleasant. And that worried us, because that's entirely the wrong impression. To clarify, here's the message we wanted you to take home.
All together, we loved our time on the Lycian Way. The scenery was stunning, the people were amazing and we had a huge sense of accomplishment each and every day. We took home a tonne of stories as evidenced by our 4 part journal, enjoyed beautiful campsites, shared bread and cheese with the friendliest of people despite lacking a common language, became attached to our canine companion Mayhem, saw impressive ruins of ancient cities, and so much more.

Had the nights not become too cold for us, we would have completed the trek. They did though, and we chose to stop early. Now we really do want to go back and finish it, and maybe even attempt some of the other long distance trails that Turkey has to offer.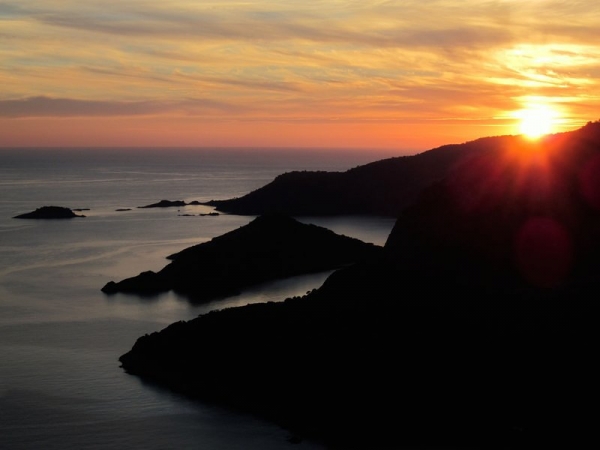 Our private clifftop sunset
So why did it sound so bad in our journal? Well, I guess the stories of wild pigs in the night, getting lost multiple times, and the added pains of the flu and headaches are the ones we thought were the most entertaining. They are the stories we tend to tell when were swapping stories with newly met friends.
I suppose we could have taken the time to write a paragraph on every amazing vista, the refreshing taste of fresh spring water sampled from the stream on its way down the mountain, the peaceful breaks we took under olive trees and ancient fruit orchards hidden in majestic hills, and all of the not-so difficult parts of the trail we walked while completely healthy and in good spirits. Had we done that our journal could easily have tripled or quadrupled in size. But that wouldn't be good storytelling.
If you were thinking about doing the Lycian Way yourself I really hope that we've inspired you to do it. It's an amazing experience, just don't go into it thinking it'll be a walk in the park. It's not, but the challenge is half of the fun.
P.S.  There are oodles of options to walk the Lycian Way.  If schlepping about with heavy backpacks like we did isn't your cup of tea, you can walk many parts of it as a series of daytrips carrying only water and some snacks.  Another option would be to bring your clothes but leave the tent at home and plan your route to stay in pansions(guest houses) every night.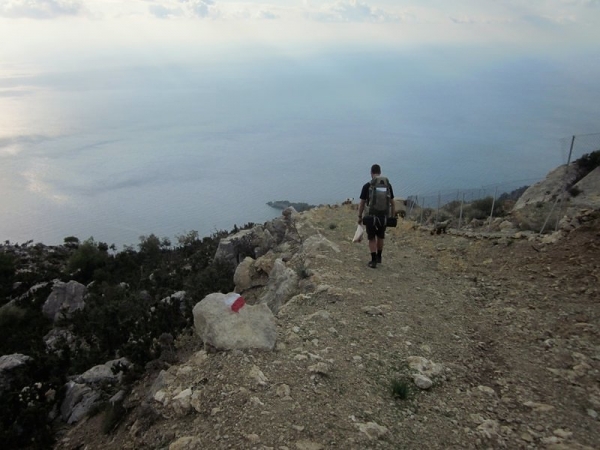 Hiking on the edge of the world
8 Responses to "In Case We Didn't Make It Clear…The Lycian Way Was Actually Pretty Awesome"