There's no point in beating around the bush. Turkey has been one of our favourite countries. So much so that it's a very strong contender for THE favourite country of the entire trip. It felt both European and Eastern. I suppose that's to say that it felt familiar, comfortable, organized and yet was strange, exotic, and welcoming.
There's plenty of culture to experience, beautiful landscapes to see, and the people are amazing. Turkey was really easy for us to travel around on our own, as it is highly developed. English was well spoken at all of the hotels and travel companies that we used. Avoiding the pre-packaged tours meant that we could also avoid the famously aggressive carpet salesmen and other tourist market touts which so often give Turkey a bad rap amongst tour package travellers.
We would go back in a heartbeat – especially to experience Eastern Turkey.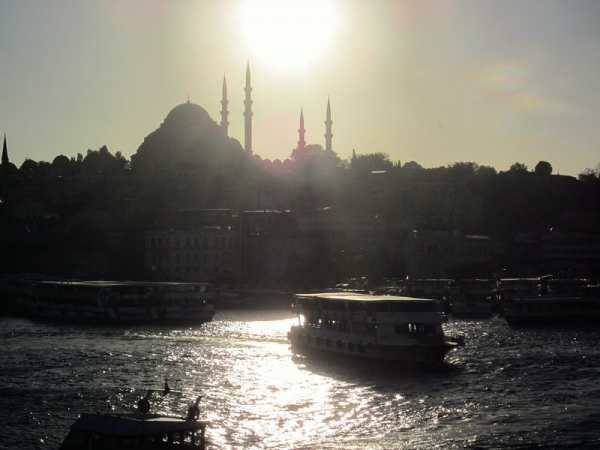 Istanbul
Length of Stay:   46 days
Average Cost per Day for Two People:  $42.44
Places Visited:  9 + Lycian Way
Distance Traveled: 200 km by foot and 3518 km in 20 buses
Days Sick:  We had a common cold for about a week each.
Biggest Tourist Traps:  Carpet Stores
Exchange Rate:  $1 CAD =1.80 Turkish Lira

For more great stats, check out our statistics page!
Our Route
Istanbul – Göreme (Cappadocia) – Antalya – Lycian Way [walking from Fethiye to Kaş]  – Demre – Olympos – Pamukkale – Ephesus – Istanbul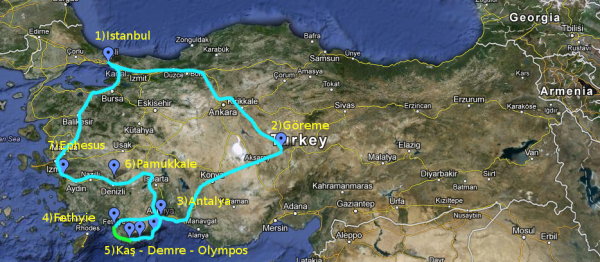 Highlights
The friendliest of people. We were constantly given free meals, teas, Turkish coffees, and were entertained for hours just because our hosts genuinely wanted us to feel welcome in their country.
Mayhem and The Lycian Way. We've written about this extensively.
They have many impressive mosques and…
Lets not forget the amazing rock carved hoodoos and underground cities of Cappadocia.
Roman/Greek/Lycian ruins.
Wild pomegranates… the reddest and most delicious I've ever tasted.
Turkish breakfasts included with every room – fresh bread, honey, jam, yogurt, cucumbers, tomatoes, cheese, and lots and lots of olives.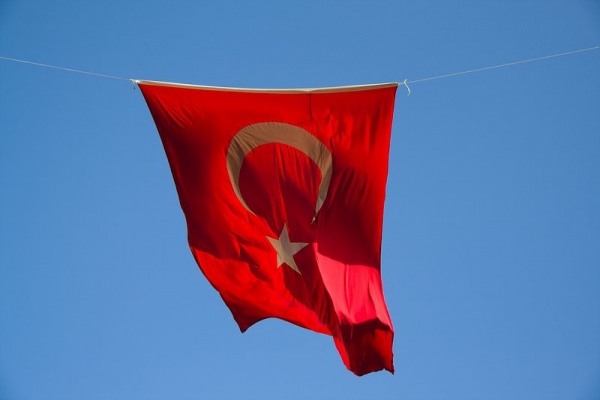 Flags everywhere
Lowlights
Carpet salesmen. Easy enough to avoid, they stick pretty close to their stores. If they bother you, just walk away.
Night buses. The price was fair, the seats were comfortable and the staff came around regularly with complementary tea and coffee service. Unfortunately, the buses don't have bathrooms on board. As a result, there is a lights-on-stop every few hours leaving little to no chance for anyone to actually sleep during the night.
Taxi drivers. We managed to only take a taxi twice in Turkey. Both times I felt that I had paid far too much. Fortunately, I believed that the driver would cause me to be seriously maimed in a deadly accident before we arrived at our destination only one of the times.
Surprises
Call to prayer can be heard everywhere. Cities, towns, mountains, valleys, and beaches. Five times a day, seven days a week. It's a live performance every day, it's full of emotion, and it's something I grew to appreciate in a totally non-religious sort of way. Believe it or not, I actually missed the call to prayers after leaving Turkey.
Even though both my parents are diabetic, I was still able to eat several pounds of sugar-saturated dough in a single sitting without triggering my own pancreas to fail.
You can't eat raw olives off of the tree. Too bitter.  Trust me, I tried over and over again.
Lessons Learned
Don't go for a long multi-day hike in new boots (unless your name is Mike, in which case it's fine).
Firefighters really do rescue kittens from high places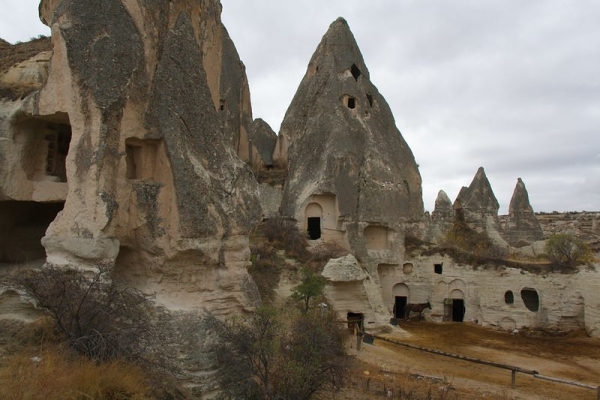 Cappadocia
Where Did We Spend Our Time?
Istanbul – 9 days
Göreme (Cappadocia) – 5 days
Antalya- 2 days
Lycian Way [Fethiye to Kaş] – 14 days
Demre (Myra) – 1 day
Olympos – 9 days
Pamukkale – 2 days
Ephesus – 4 days